Michiana
Regional Meeting in Northern Indiana
Michiana Regional Meeting
Global Health: Awareness and Compassion
Global Health: Awareness and Compassion was the topic for a Mennonite Healthcare Fellowship's Michiana Regional Meeting held on Thursday evening, November 13, at College Mennonite Church in Goshen, Indiana.
Vicky Kirkton, a member of the Goshen College nursing faculty and the MHF Board moderated the evening meeting which featured two presentations on global health issues.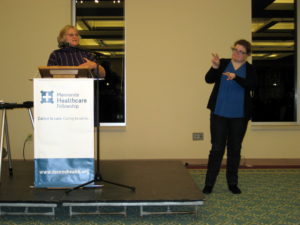 Elisabeth Beels, RN, reported on the collaborative learning experience between Goshen College Nursing students and their counterparts in Nepal during May 2014. She emphasized the medical, cultural, and ethical learning that took place in both groups of students. Two student participants also shared their perspectives.
Dan Nafziger, MD, MHF member, infectious disease specialist, and Elkhart County health officer, gave perspective and an update on the Ebola outbreak in West Africa and its implications for North American Mennonites.
Approximately 90 persons ranging in age from high school and college students to retired healthcare professionals, attended the meeting. Refreshments and fellowship followed.
For more information about the Michiana Regional Meeting, please contact the MHF Office.